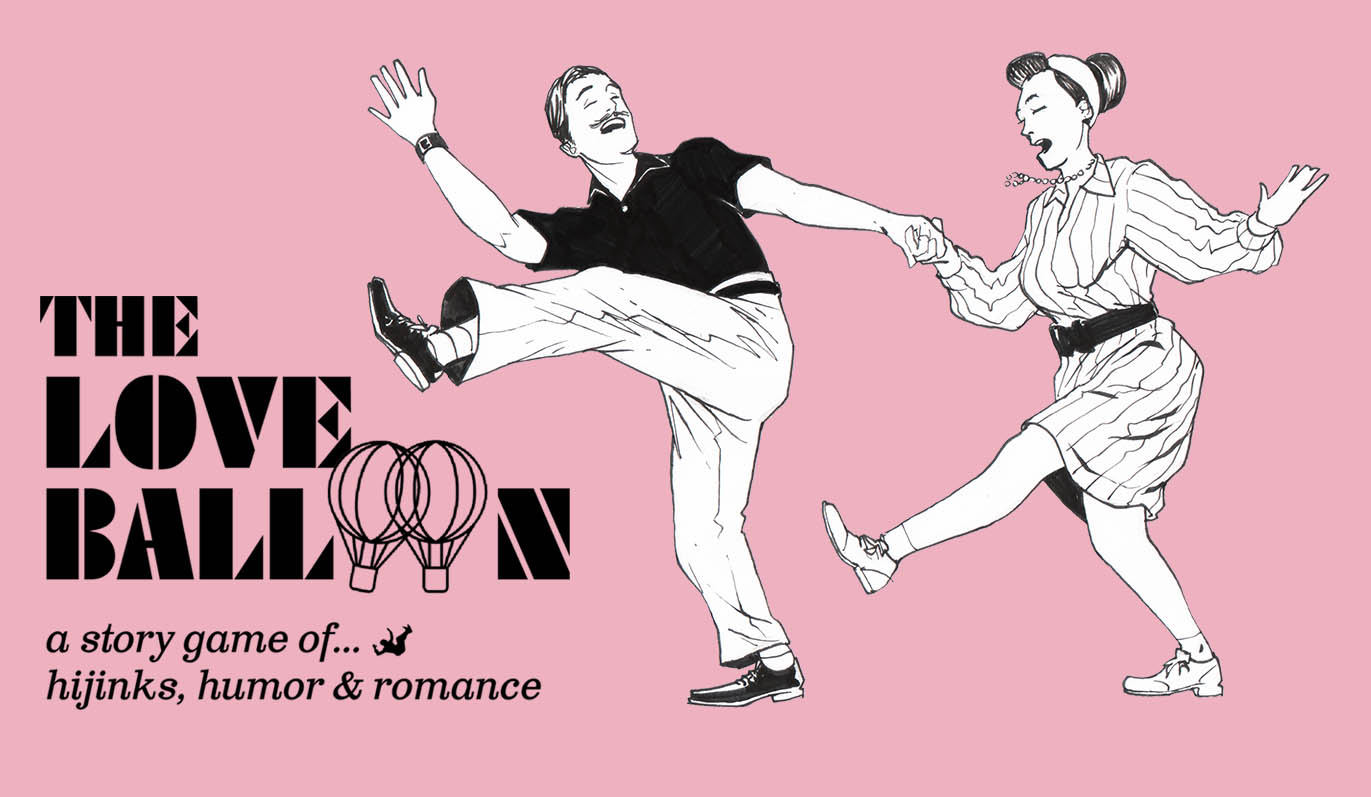 The Love Balloon

The Love Balloon is a light roleplaying story game for 2-6 players inspired by the wholesome yet innuendo-laden sitcoms of the late 70's and early 80's - shows like The Love Boat, Fantasy Island, and Three's Company.
No other ship has sailed the winds more than the magnificent Cloud Nine. Welcome at any port, its guests - from Kings and Presidents, to Celebrities and Athletes, Dentists and even Stowaways - all have attested to the ship's magical voyages of the heart.
Come book your stay today and experience what it's like to float your troubles away!

Played with 2-6 players GMless, players create guests on board the Love Balloon by establishing a backstory and motivation and sometimes a preexisting relationship! Players then follow a specific structure of play prompted by a Story Beat and informed by Karma to determine who succeeds or fails in the scene.
The Love Balloon is strictly a PG-13 fantasy where a kiss is the ultimate expression of love. Stories told from The Love Balloon tend to be quirky, romantic, wholesome, uplifting, and silly.
In an episode of The Love Balloon you might have:
The Captain trying to connect with a Celebrity who feels misunderstood.
A Debutante looking for commitment who happens to be in an unhappy relationship with a Hitman losing their memory.
While a Nerd who needs a break might find sparks with a Musician who has an addiction.
What kind of zany hijinks will our characters get into? Will they confess their feelings and find romance? We play to find out!
----------------------------------------------------

Each digital copy comes with a PDF copy of the rules as well as a Virtual Play Surface built in Google Sheets designed to facilitate online play.
If you would like a physical copy of the Zine, you can purchase one on the Mythopoeia Web Store!
Purchase
In order to download this game you must purchase it at or above the minimum price of $5 USD. You will get access to the following files: